VST series pulse vacuum sterilizer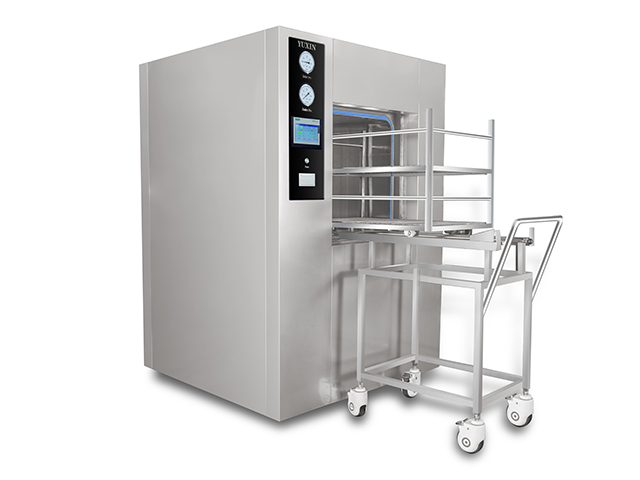 VST series pulsevacuum sterilizer uses saturated steam as sterilizing medium, through pulsevacuum, the saturated steam can penetrate to the surface of the articles completely, and the high temperature saturated steam under high pressure can kill all microorganisms and their buds, the sterilizing effect is reliable, it is the most effective method in physical sterilization method.Can be widely used in pharmaceutical, biological engineering, scientific research and other fields of fabric, instruments, lumen instruments, rubber, liquid sterilization treatment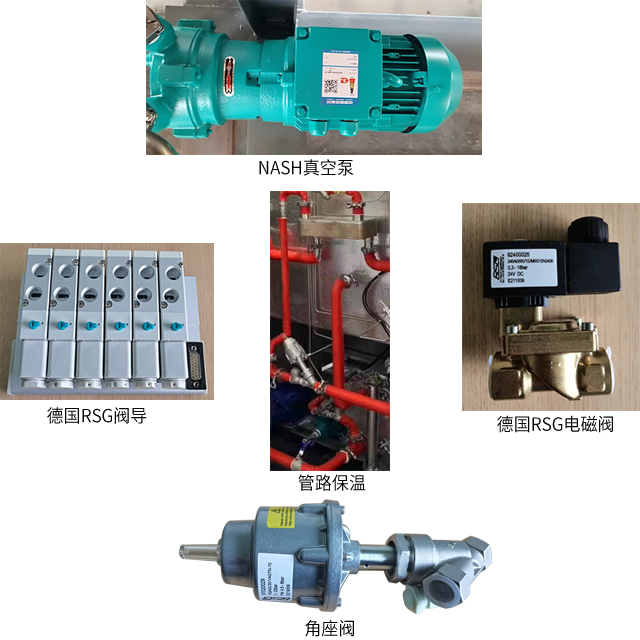 Main performance features
l Lift door, motor chain drive door up and down vertical sliding open and close, no manual operation, save space occupation.
l Double door channel type, with pressure safety interlock, liquid program with temperature door safety interlock, double door interlock.
l Inflatable pressure driven sealing ring to achieve automatic sealing, the new high quality high tear resistance silicone rubber material circular hollow door sealing ring, the surface of special coating treatment, wear-resistant smooth, with better sealing effect and longer service life, life up to 1500 cycles.
l Main structure is rectangular section, European ring reinforcement jacket without flange structure, sealing groove is directly welded on both ends of the ring jacket.
l Control system: Siemens programmable controller PLC and color touch screen, the whole process automatic program control, automatic display of running process state, running curve and temperature, pressure, time and other parameters.
l Intelligent maintenance system :(optional) equipped with a remote monitoring and maintenance module, you can remotely monitor the device running on a PC or mobile phone and upgrade software.
l Has sterilization procedures for fabric, instrument, cavity instrument, rubber, liquid, custom and BD test, vacuum leakage test and other test procedures.
l Pulsation mode: adopt negative pressure pulsation, cross pressure pulsation and positive pressure pulsation modes, the air removal capacity is greater than 99.99%, save steam consumption, improve steam sterilization and drying effect.
l Flash vacuum drying technology, fabric dryness is less than 0.6%, instrument dryness is less than 0.1%
l Prints process data in real time via a built-in printer, and pharmaceutical customers are equipped with a paperless recorder.
l Pipeline system: stainless steel sanitary pipeline, clamp connection, welding seam all adopt automatic pipe welder welding;The main control valves are imported German Angle seat valve and solenoid valve, German NASH direct water ring vacuum pump.
l Supply system detection and alarm system: equipped with steam, water, power phase sequence detection and alarm device, once the supply system does not meet the operating conditions of equipment, automatic alarm, and forbid the program to start and terminate the program operation.
l With automatic drainage temperature adjustment system, drainage temperature <60℃.
Technical parameters
| | | | |
| --- | --- | --- | --- |
| Chamber design pressure | -0.1/0.3MPa | Accuracy of temperature | 0.1℃ |
| Jacket design pressure | 0.3MPa | Accuracy of pressure | 0.1KPa |
| Generator design pressure | 1.0 MPa | Sterilization temperature control accuracy | ±1℃ |
| Design tempreture | 150℃ | Temperature uniformity | ±1℃ |
| Maximum operating temperature | 139℃ | Negative pressure pulsevacuum | -80 ~0KPa |
| Maximum operating pressure | 0.25MPa | Across the pressure pulsation | -80~80KPa |
| Chamber relief valve | 0.28MPa | Positive pressure pulse | 0 ~ 9 times |
| Jacket relief valve | 0.28 MPa | Maximum vacuum | -96 KPa |
升降门脉动真空灭菌器
MODE

Chamber size

volume

Overall dimensions

weight

Steam consumption

Water consumption

POWER

(m3)

Kg

Kg/C

Kg/C

W×H×D

L×W×W

VST-0.15

450×450×750

0.15

1050×1350×1700

520

12

80

380V,50HZ,2KW+(12KW)

VST-0.25

550×550×845

0.25

1205×1290×1850

750

16

120

380V,50HZ,2KW+(24KW)

VST-0.3

550×550×1000

0.3

1360×1290×1850

800

18

120

380V,50HZ,2KW+(24KW)

VST-0.45

652×690×1000

0.45

1360×1400×2000

850

22

180

380V,50HZ,2KW+(30KW)

VST-0.6

652×690×1350

0.6

1710×1400×2000

1200

35

320

380V,50HZ,3KW+(36KW)

VST-0.8

652×690×1800

0.8

2160×1400×2000

1350

47

400

380V,50HZ,3.5KW+(48KW)