Vertical pressure steam sterilizer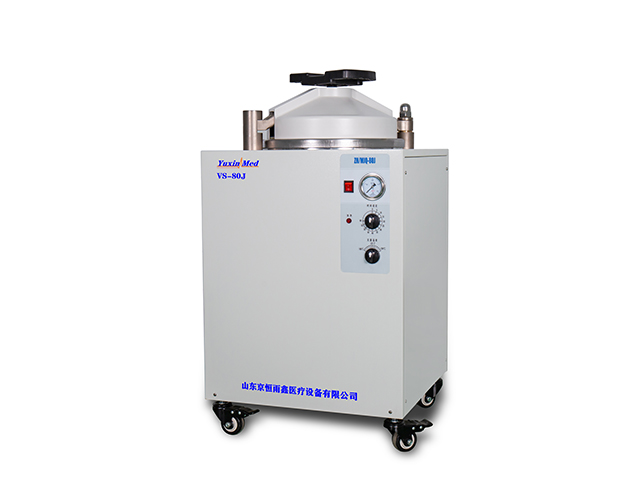 VS-J series vertical sterilizer is a kind of small automatic high temperature and high pressure sterilization equipment with pressure steam as medium.It is suitable for sterilization of fabrics, tools, rubber, liquid, glassware, culture medium, waste and other articles in biological research institutes at all levels, such as biological laboratory.Technical parameters:
◆ Design pressure: 0.3MPa;
◆ Rated working pressure: 0.23MPa
◆ Sterilization temperature: 105 ~ 134℃
◆ Maximum temperature: 136℃
◆ Sterilization time range: 0~60min;
◆ Cavity material: SUS304 stainless steel
mode

volume

Chamber size

Overall dimensions

Weight

POWER

(L)

(Φ×L)

(L×W×H)

VS-50J

51L

Φ316×667

476×500×990

55Kg

220V50Hz 3Kw

VS-80J

80L

Φ386×695

546×570×1030

65Kg

380V50Hz 3.9Kw

VS-100J

100L

Φ386×860

546×570×1195

80Kg

380V50Hz 4.5Kw
Main sexual characteristics:
◆ Temperature rise, sterilization process automatic control, imported pressure switch control sterilization pressure.
◆ Sterilization temperature can be set, convenient for users to choose sterilization temperature for different items.
◆ Indicator indicates the working status and automatically stops heating when the process is over.
◆ Overtemperature automatic protection device: the system automatically cuts off the power supply when the temperature exceeds the setting.
◆ Door safety interlocking device: through the provincial technical supervision bureau special equipment safety appraisal, the door is not closed in place, the heating power can not be connected;There's pressure in the chamber. The door won't open.
◆ Overpressure relief valve: when the opening pressure of the relief valve exceeds, the relief valve opens and relieves pressure.
◆ Heat preservation and heat insulation cover: the door cover made of heat preservation and heat insulation material is isolated, which is beautiful and can prevent the operator from scalding.
◆ Horizontal sliding quick door structure, self-expanding seal, simple and safe operation.