GRM Hot air sterilizer
GRM series automatic dry heat sterilizer.It is suitable for drying, baking, melting wax, sterilizing and removing heat source of glassware, powder, vaseline, paraffin oil and other grease and metal utensils and utensils which are resistant to temperature and humidity and cannot be penetrated by steam.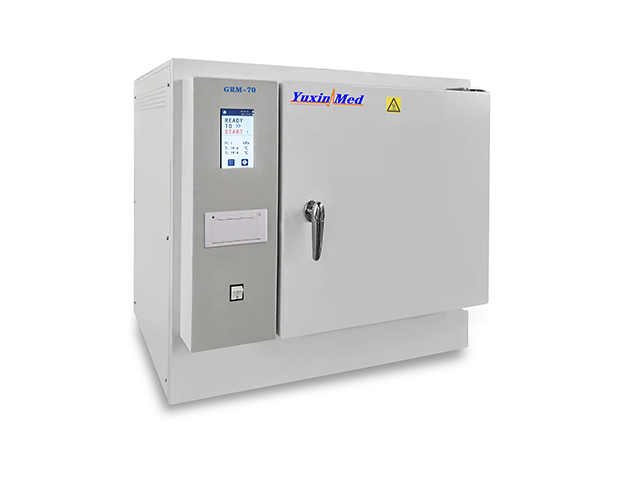 Main performance features
Adopt microcomputer control technology, LCD display, touch screen operation.
The whole process of heating and heating, constant temperature sterilization and cooling is automatically controlled.
There are three sterilization procedures for metal instruments, glassware and organics. The sterilization temperature and tim
can be set according to specific requirements.
Touch screen displays process status, temperature and time.
The process ends.The speaker signaled the end.
Overtemperature automatic protection device;The system will cut off the heating power automatically if the temperatur
exceeds the set temperature.
Automatic control of air inlet opening and closing.Equipped with hot air circulation system to ensure uniform temperature i
the working room.
Main technical parameters
l power supply: 220V 50Hz
l Temperature control range: 50-250 ℃
l Temperature control precision: ±1℃
l Microcomputer timing: timing range can be designed according to user program
| | | | | | |
| --- | --- | --- | --- | --- | --- |
| mode | volume | Chamber size | Overall dimensions | Weight | Power |
| | (L) | | (L×W×H) | Kg | |
| GRM-70 | 70L | 450×450×350mm | 765×575×750mm | 70Kg | 220V50Hz2.0Kw |
| GRM-160 | 160L | 570×890×500mm | 912×890×755mm | 100Kg | 220V50Hz3.0Kw |